A busy Fall Semester for the Traveler's Lab ended with a group meeting on Thursday December 7.
Fourteen Wesleyan students joined Profs. Birkett (Exeter, UK), Franklin-Lyons (Marlboro), Koscak (Wake Forest), Oleinikov (Wesleyan), Shaw (Wesleyan), Torgerson (Wesleyan). We were also joined, via video-conference, by our potential collaborators at Laffayette College, Prof. R. Goshgarian, Dr. J. Simms, and J. Clark.
We heard presentations on:
We can now also announce our visiting colleague, Prof. Stephanie Koscak's project for Spring 2018: Lost and Stolen Objects in 18th-century London. Next semester at Wesleyan and Marlboro will also see continued work on the Chronicle of Theophanes, the Datini Archive, the Friars' settlements, and turning more itineraries into roads in Late Medieval England.
Finally, we bid a "see you soon" to our collaborator Prof. Helen Birkett who will be returning to Exeter University after a semester of working with the Traveler's Lab. We look forward to turning this semester's work into a consistent shared workflow and further tangible collaborations as Prof. Birkett pioneers the Traveler's Lab "Network."
Some images from the presentations:
Still in process, here is the "communication network" generated thus far from Caesarius of Heisterbach's Dialogus (or Exempla)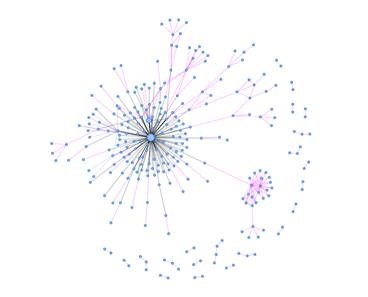 After 18 months of data generation, the very first bits of data analysis from the Chronicle of Theophanes: